16 October 2019

The enthusiasm of young talent: Young Lions competitions
In the last edition of the Cannes Lions Festival the Young Lions competitions were held again. There were 7 Young Lions competitions which were comprised of 470 young people from our industry, coming from 68 countries. All of them had previously won local competitions arranged in their home countries. Without a doubt the best talent in the world, selected from amongst the best.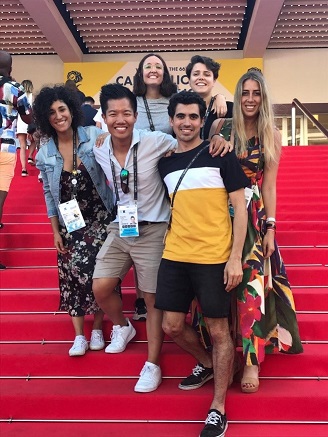 Photo: Spanish Young Lions 2019 teams at Cannes
Passion, visions and nerves are the 3 tools which the majority of them have in their bags, but also large doses of competitiveness, expectations, and above all, willingness to learn. Learning from and living in the experience, recording it with the eye and not forgetting anything, taking in every second and learning something which can help them in the future, because they know it's a unique and extremely valuable experience.
Strolling through the Young Lions hub during Festival Week, means entering an enclosure, almost even say a sacred place, where you breathe the concentration, companionship and stubbornness that allow them to create a winning proposal in 24 hours. Once they have it, they rehearse their presentation in English as much as they can, which can't be longer than 5 minutes. Then comes the verdict.
It requires a lot of hard work to get here and the teams try and give everything to win, some more focused on winning and others more aware of how difficult the challenge is. And the briefings delivered in both the local and international competitions are real challenges. Along with the difficulty of understanding and familiarising yourself with the briefing, there is also the time limitation, which is brutal. Additionally, if you add in having to "think" in a language which isn't your mother tongue then things are complicated even further, and if you can't work on your laptop, your photos and final document are limited in their length, which makes for a very hard competition.
Three high-profile institutions have this year been given the responsibility of delivering the briefing for all the competitions: WWF, the largest NGO which works in defending the environment; The Lotus Flower, which provides aid to refugee women and girls in conflict areas; and lastly, Room to Read, an organisation whose objective is transforming the lives of millions of children coming from disadvantaged communities through education. 3 great briefings which support the visions drawn up years ago by the festival, the vindication and value of our industry as a key driver for the transformation of our world.
As representatives of the Festival we work with the same vision each year, organising competitions of young talent by presenting to them briefings with a clear social objective. But this wouldn't be possible without the support and confidence, which we see as essential, which our sponsors give us in every edition. CARAT, HOTWIRE, agencies from the Omnicom Group (BBDO SPAIN, DDB, OMD, PHD and TBWA), this year's sponsors, have all set aside resources, equipment and a lot of time, to be able to carry out the competitions and select the expert judge to choose the best team.
Every year, from SCOPEN, we are committed to the young talent of our industry by providing them with this wonderful learning and knowledge platform.